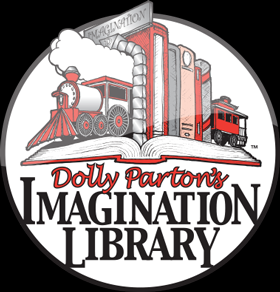 Books from Birth
What is it? Books from Birth brings Dolly Parton's Imagination Library to all children from birth to age five in Chenango County. Any child living in Chenango County can get a free book delivered to their home every month through the mail from the time they are born until they turn five!
Why do it? It is important for proper development for every child to begin to read books with their parents and caregivers long before they are old enough to go to school, yet many families don't have books to share with their children in these early years. Books from Birth aims to solve this problem and give all Chenango County children and parents the books they need to help them enter kindergarten ready to learn and succeed in school. You can see some supporting research here.
Who is involved? The nine public libraries of Chenango County, along with their sponsors – Chenango United Way, Norwich Rotary, Greater Norwich Foundation, Guernsey Memorial Library's Board of Trustees, Chobani, and private individuals like you.
How can I help? Books from Birth operates on grants and donations. If you would like to donate (it costs about $30 per year per child to provide the books,) we would welcome checks made out to Books from Birth at Guernsey Memorial Library, 3 Court Street, Norwich, NY 13815.
How do I sign up? Register your child online at Dolly Parton's Imagination Library or fill out this form and bring or mail it to any public library in Chenango County.
What else can I do to help my child learn to read and be successful? Reading together is only the beginning. Here are some other activities to try that tie in with the books: Imagination Library Book Activity Ideas, Train Story Hour Plan, Dog Story Hour Plan.
Total Page Visits: 2018 - Today Page Visits: 1